Work-Life Balance Counseling
1. Purpose of the Establishment
"Work-Life balance counseling room" for improvement of the environment in which not only women but also all researchers and teaching staff can display their capabilities while balancing work and life.
Particularly, by supporting women researchers who are facing life events such as childbirth and childrearing, or caregiving, we increase the number of women engineering researchers and encourage the employment of women and the increase in senior positions.
2. Location and Timing of Opening of the Counseling Room
Location: Room 707, Seventh Floor, Synthetic Research Bldg., Nagaoka University of Technology
Opening: November 1, 2019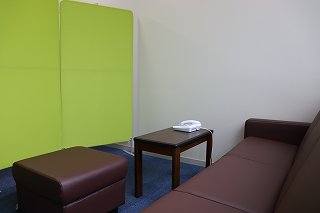 3. Matters to be Consulted
Balancing research and work responsibilities when confronting and coping with life events such as childbirth, child-rearing, and caregiving
Concerns about work-life balance (WLB)
Introduction to specialized agencies and organizations on-campus and off-campus with the permission of the consulting person
4. Counselor
Group for Promoting Diversity in Research Counselor Shirai Hitomi
 Counselor's Profile : Industrial counselor, Career consultant, JAWE Career Development Designer
5. Persons Eligible for Counseling
Researchers and teaching staff
6. Counseling Days
Tuesdays and Thursdays from 10:00 to 16:00
7. Reservation
Make a reservation by phone or email.
Phone 0258-47-9911 (Nagaoka University of Technology, ext. 9911 and 2170)
Email wlb_soudan@vos.nagaokaut.ac.jp
8. Counseling
A counseling session is about 45 min long, in principle.
In the matters to be consulted, those required to revise the system, improve facilities, and reflect on the projects to realize research environment diversity will be dealt with in consultation with the Head of the Group on the premise of the consulter's consent and the careful management of personal information.
9. Handling of personal information
On the premise of careful management of personal information from acceptance to after counseling, documents are secured in a locked stack room. All electronic media, such as EXCEL and WORD files and documents, are managed with passwords.